NZ4U2U
Modern luxury caravans for rent
Prepared Itineraries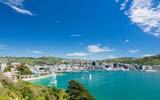 Fantastic holiday options and Kiwi experience
Our True Passion
We want to provide a fantastic holiday option and Kiwi experience for our customers with modern luxury caravans for rent. The first thing that comes to everyone's mind while thinking of a vacation is comfort and accommodation worries. We are committed to provide you all the comforts of being at home on your vacation. We have even prepared itineraries for you. Visit Tours section and you are good to go from there. It is our vision that a NZ4u2u experience will be the epitomy of the Kiwi experience.
New Zealand is one of the most beautiful countries in the world. In the space of a single day you can travel from our beautiful beaches up through our amazing mountains and see some of the most awe inspiring scenery There are ample of adventure activities to perform. We want to make sure as many people as possible can come and experience it. Hire one of our modern luxury caravans for rent and be a part of it.
Where did we start?
We have four boys and were lucky enough to take an amazing trip around New Zealand.  We met many amazing people along the way.  We discovered through experience and chat that there were so many advantages of using a caravan over a motor home, and that New Zealand was such an amazing country to see by caravan.  We decided we had to share this with the rest of the world.
We build lasting relationships.
The people who book with us are really important to us.